Wild Week at the 2012 Nike US Open of Surfing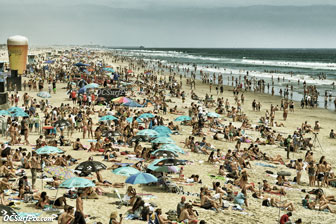 It's been a fun and crazy week at the 2012 US Open of Surfing in Huntington Beach. With only the men's and women's finals left on Sunday.
With eight days down and only one day left, I've managed to take over 4,400 photos. Including some awesome images of Kelly Slater, Lakey Peterson, Carissa Moore and so many others. Not to mention the pictures of the festival itself.
Plus, there's a good chance you've seen some already. Nike's US Open of Surfing picked up a few of my pictures I posted on my instagram account (OCSurfPix) and posted them on the large electronic board, see picture below.
Surfing conditions haven't been the best, but honestly it hasn't mattered, the best surfers always make the most of it.
Unlike last year where I posted photos of the US Open of Surfing everyday, this time I'll simply group them together into just a few posts. Why? Well, shooting, sorting and preparing them for online all in one day is too time consuming for me.
Plus, this time I had a major malfunction with my main Nikon camera body. On Thursday, the sixth day of the US Open, the camera shutter jammed and needs to be replaced. Yup, just a few days before the final my camera decides to die. Oh well, a few days at the Nikon repair center will fix that, but in the meantime it's a back-up body.
Today, I'm sharing a small sample from this past week. Then in the next few day's I'll start to unload the rest of the photos, you won't want to miss them. So be sure to bookmark this site or follow us on Facebook or look us up on Instagram under OCSurfPix.