The Venice Surf Photographers Meetup Group at HB Pier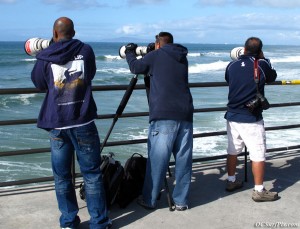 This morning I spent a few hours at the Huntington Beach Pier along with a few members of the meetup group Venice Surf Photographers.
Although I shoot at the HB Pier often, this was the first time I met up with this group. I arrived early, just before 8 a.m., the rest of group trickled in within the next hour.
The turnout of surfers wasn't as high as my previous trip a few days earlier, and the waves were a little choppy at two to four feet with the occasional five on the south side of the pier. However, we all made the best of it plus a met a nice group of people with the same passion of photographing surfers.
A couple of photographers (Patrick and Butch) brought out the big guns. Large lenses were the theme of the morning. I'm looking forward to seeing some of their pictures.
On a different note, I have a huge backlog of pictures I've taken of surfers in the past several weeks. I'll start to share some of them in the next few days.
But for now below are a few pictures I took today. And if that's not enough, be sure to see all the pictures I've taken at various surfing competitions in Huntington Beach.

Click on image to see full size.