Photographing one surfer from a crowd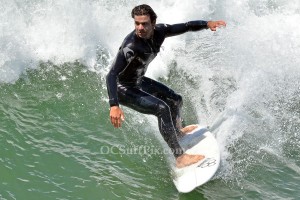 This past Wednesday, April 27, I headed out to Huntington Beach again to photograph the action by the surfers. I arrived a little late, it was about 11 am or so. The sun was casting a harsh light on the water and surfers, causing flat colors and hard shadows.
While shooting on the south side of the pier, I ran into another photographer, Daniel from DanielClayHardt.com. He was busy photographing a client (a surfer), which can be difficult capturing nice shots while 10 other surfers are surrounding your client!
Of course it is possible to isolate your subject. One solution is to crop the others out the other surfers, this is the easy and most convienent way to do it. Something I do often. A second way requires more time, which is to extend the duration of the shoot so you have more shots to work with.
As you can see from the samples below, it can be difficult to isolate a single surfer. However, by taking more photos from different angles, I was able to isolate a surfer as shown on the right.