Kelly Slater dominates at day 3 of the US Open of Surfing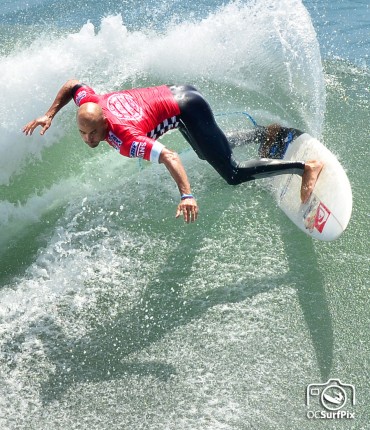 What Kelly Slater does out in the surf is nothing short of awe inspiring. And today he didn't disappoint, in fact he dominated his heat to the thrills of the US Open of Surfing crowd in Huntington Beach.
I staked out my location several hours before his heat on the south side of the HB Pier in anticipation for the best location to photograph the action.
As usual, when he was out in the surf, the crowds on the beach and the pier quadrupled. The spectators on the south side of the pier were two and three people deep.
Kelly was in the 12th heat with Nathan Yeomans, Jean Da Silva and Heath Joske. Kelly took the top spot with a score of 16.67 and Nathan Yeomans came in second with 11.80.
You can find the full results for today here.
The mens round of 96 continue tomorrow, Tuesday. You can find the full schedule at the official US Open of Surfing website.
These are all from heat 12 with Kelly Slater. If I have time later tonight I'll post more from the rest of the day. Otherwise I'll save them for a later post. Overall it was a fun day.
Don't forget to follow me on Twitter, Instagram or Facebook, all @ocsurfpix.
And now for the photos, click on any one below to see them larger.