HD Video of the people at 2011 Nike US Open of Surfing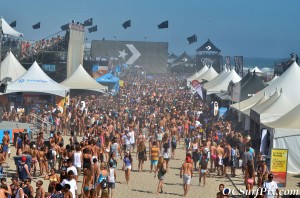 Watching the large crowds at the 2011 Nike US Open of Surfing in HD video is the only way to appreciate this popular summertime event in Huntington Beach.
Youtube member Benson (Asianjma123) sent me a link to a video he took yesterday (Thursday August 4, 2011) using a IndieHardware stabilizer with his DSLR (see below). As you know, shooting a video hand-held with a DSLR is impossible to keep stable so the only way to properly take video with a DSLR is to use a stabilizer.
Benson used his IndiHardware stabilizer, which I'm assuming is IndiHardware
, you can find the item on eBay (they don't always have them in stock so if you plan on getting one, check their eBay page often or email them).
The video is about 11 minutes long, the funny thing is that I was also there all day and I think I saw him walk by me several times! But the 2011 Nike US Open of Surfing is so big this year that it could have been someone else. There are literally thousands of people and hundreds of them have cameras.
Benson managed to capture the active, sexy bikini scene of the 2011 US Open of Surfing with this HD video. If you haven't attended this event, this video will give you a great idea of the large crowds found at the US Open of Surfing. The video below is best viewed in HD, so make sure you click on the settings tab.