2012 NSSA State Championships at Huntington Beach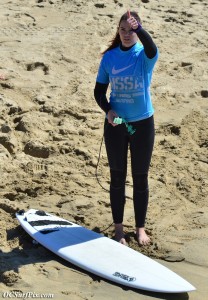 Today was the second day of the 2012 NSSA State Championships at the south side of the Huntington Beach pier.
There were many talented college, high school and middle school surfers out competing. But like yesterday, at best there were 1-2 ft waves with the occasional 3-4 ft. It was a challenge for the surfers, not to mention the photographers!
Truthfully, the surfers did a great job and provided some excitement for the spectators. I was shooting from the pier as well as the beach, you know how I like to move around to get different perspectives.
I was there only a couple of hours and splitting my time from the surf competition and the Kite Party. You can find some of the pictures of the kite party on So Cal Daily Photo. As for the the surfing pictures, well like I said it was a challenge.
The event raps up tomorrow, if you plan to attend, you can find the full schedule here. It should prove to be a good final day. It starts at 7 a.m. with the final starting at 2:30 and the awards at 6:30 p.m.
I've added a few random pictures from the High School Varsity Womens Quarterfinals, which took place around 11 a.m.
More photos are included below.