2011 US Open of Surfing construction at Huntington Beach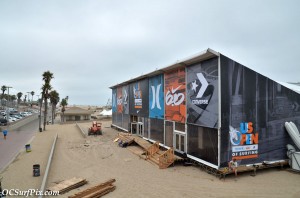 The construction continues for the 2011 US Open of Surfing in Huntington Beach.
Earlier today I took a walk on the HB Pier and as you can see from the photos, the construction is moving along just fine. In less than two weeks, expect to see over half a million people gather at this festival to view not only the surfing competition, but the best in skate, BMX, music, fashion and art.
The event runs from Saturday July 30th through Sunday August 7th, 2011. Yes, expect me to update this site with lots of photos during that week.
Stay tuned early next week with a special OCSurfPix update on the US Open of Surfing in Huntington Beach. I'll discuss some of the ways I plan to photograph this event and tips for you to do the same. After all, this is a surfing photo site!
Here are a few images of the build construction from earlier today.