The 2014 Vans US Open of Surfing has officially started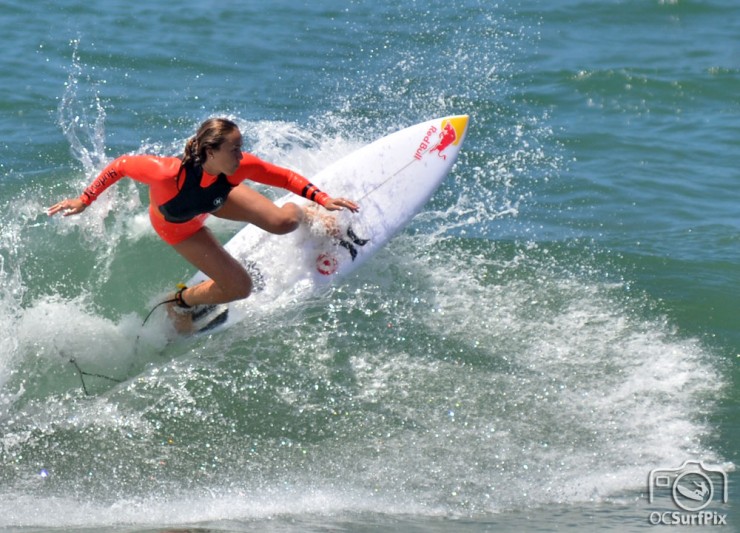 The 2014 Vans US Open of Surfing in Huntington Beach has officially started and although most of the major events don't begin until Sunday and Monday, many of the professional surfers arrived earlier in the week to prepare for the competition.
Carissa Moore
Even though the surf conditions have been pretty much flat, I was able to spot 2013 ASP Women's World Champion and 2013 US Open of Surfing champion Carissa Moore earlier in the week.
She was on the south side of the pier working the 2-3 ft waves. Yeah, I know, but that's what we've had most of the week here in Huntington Beach.
She was doing the best she could and considering the poor conditions, only a true pro could make it look easy.
And she did exactly that. Oh and did I mention she's also currently ranked 1st on the 2014 ASP Women's World Championship Tour? Dedication and hard work, no matter what the conditions are, that's how it's done.
Tatiana Weston-Webb
I spotted a few other pros on the Women's World Tour as well, including Tatiana Weston-Webb. Talk about a strong talented surfer, check out this video of her two months ago at the Fiji Women's Pro against Carissa Moore.
And below, she was just finishing up her surf session on the south side of the Huntington Beach Pier.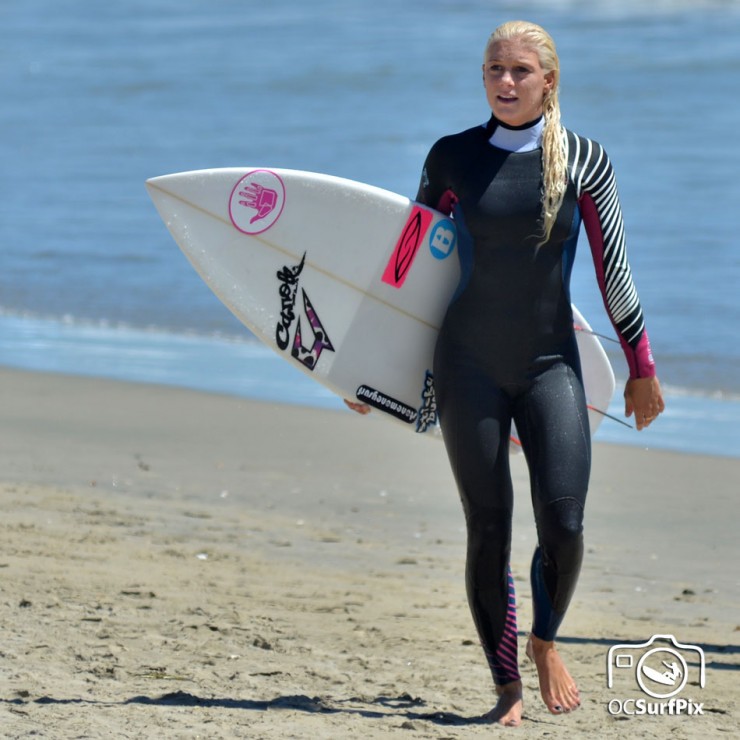 Sally Fitzgibbons and Bianca Buitendag
Also arriving early and out on the south side was Australian Sally Fitzgibbons and Bianca Buitendag from South Africa.
Although it was nice spotting them all out free surfing among the many HB locals, it's disappointing that they have to deal with these poor surf conditions.
The forecast for later in the week is simply "more of the same", so we'll see how all these talented pro surfers handle these conditions.
Either way it looks like the fans are still showing up in large numbers.
Vans US Open of Surfing Venue
The large official Vans Store in the center of the venue opened earlier in mid-week. I was there at the moment they opened and just like the previous year it was an instant hit. Earlier today, I was there with a friend and he picked up a couple of the new Star Wars Vans shoes for his son.
It seems the popular items at the Vans Store consist of the beach umbrella's, towels and of course the limited edition US Open of Surfing Vans shoes.
Most of the main heats start on Monday, I'll be there most days starting on Monday through Sunday. So expect almost daily updates here on OCSurfPix.com and of course daily updates on Instagram and Twitter under @ocsurfpix or just follow us on Facebook.
The 2014 Vans US Open of Surfing in Huntington Beach runs from Saturday July 26 through Sunday August 3rd.
One last thing, regarding this website and/or our photography services, I still have limited time slots available this entire week. So if you have a promotion going on during the Vans US Open of Surfing in HB use my contact page to get a hold of me. Or you can direct message via Instagram. Besides photography services offered to businesses, I also offer short 2-3 hour surfing photography lessons during this entire week. Contact me for more details.