NSSA Explorer Championship Action in Huntington Beach – Thursday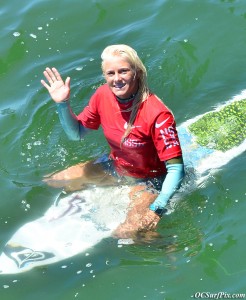 The NSSA 2012 National Explorer Championship Finals took place today (Day 3) on the south side of Huntington Beach. The National Finals continue on Friday and end on Tuesday July 3.
After packing my camera gear, I made the drive out and captured a few hours of the nonstop action. If you'd like to see the photos from the first day of NSSA in Huntington Beach you can find them here.
I was there for the Explorer Women's, Junior and Menehuene Finals which took place in the afternoon. Tatiana Weston-Webb took the Explorer Women's title, while Hawaii's Ezekiel Lau took the Explorer Men's title.
Most of the photographers were shooting from the beach, but I headed over to the pier for my usual spot. This way I can get up close to the action.
Waves were waist high at best, making it a little challenging for the surfers. But they didn't disappoint, they put on a good show for the judges and spectators.
I took over 450 pictures in about two hours, so there was little downtime. Obviously I can't put them all up, so I chose only a few.
It's been a long day for me, I've been taking photos at a couple of different places, so I don't have time to add names to most of these pictures.
If you'd like to give the names of those on this page, feel free to leave a comment at the bottom. I'd really appreciate it!
On a different note, while out on the HB Pier, I did catch a tourist with a Nikon D800, seems he was one of the lucky one unlike all those still waiting in line. It's a Nikon thing, so if this means nothing to you, don't worry it's a DSLR subject.
Back to the surfing pictures.
2012 NSSA National Explorer Finals Photos
Some of the photos are clickable to be viewed much larger, a new window will pop up so don't worry you won't be directed away from this page. Most are 1280 px wide when viewed larger.