A Local Surfing Instructor in Huntington Beach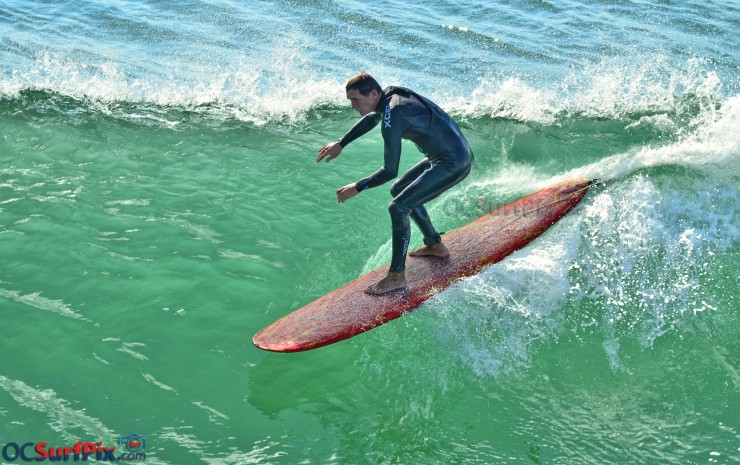 It's been a short while since I've posted new photos. It's not because I haven't been shooting, it's actually the opposite, I've been shooting like crazy the past couple of months.
I've also been doing a little traveling as well, a few weeks ago I got back from a week long trip to Maui, which was great! I'll share those photos at a different time. But for now, it's all about the man in the photo above.
Earlier this summer my friend Gerry (who is a school teacher) came to HB for a surfing lesson. He had never surfed in his life, so I was looking forward to watching him try. Well, the instructor was this old school 58 year old local surfer. I don't recall his name, but he was a tall tough guy. He reminded me of Jack Palance in the movie City Slickers.
First, let me tell you that Gerry is about 40 but looks 30, he works out in the gym almost everyday and is sort of a bodybuilder. Most would think he could manage a full hour of a basic surf lesson…well not exactly.
He suited up and walked out to the shore with the instructor while I watched from the beach. It was a warm summer day so there were lots of other people out on the north side of the HB Pier. As I watched Gerry and the instructor out trying to catch a wave, it wasn't more than 10 minutes when I saw them coming back in. Did something happen? What was wrong?
Nothing, other than Gerry needed a break according to the instructor. As they walked back to me, the instructor said laughing…"he needs a break to catch his breath, I'm going out to catch a few waves on my own then come back if he wants to continue". Gerry walking back was heaving and looked exhausted! Although we all laughed, we were laughing with him as Gerry also recognized the irony of it all.
Here was a 58 old man showing a 40 year old fit guy that when it comes to surfing, its more than just muscle, it's overall fitness and stamina that really counts.
Then two weeks ago, I was shooting surfers on the north side of the HB Pier when I noticed the instructor catching a few waves. I captured the image shown above as he was taking a break from giving someone else a surfing lesson.