2012 NSSA National Championships in Huntington Beach – Day One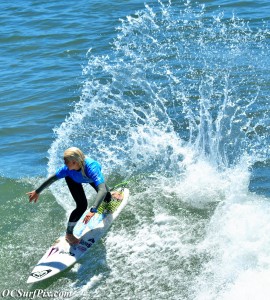 Today marked the first day of surfing for the 2012 NSSA National Championships held on the south side of the Huntington Beach pier.
The eight day surfing event runs through July 3, 2012. Hundreds of young and talented surfers from throughout the U.S. are participating at this annual event. With blue skies and waist level waves, the surfers each take their turn to show us all why they want to be pros.
Today the waves were not the best but like always, it's up to the surfers to make the best of it. Plus, this is Surf City where surfing is part of life and spectators come out in numbers to watch.
On this first day I photographed the event for only two hours. Although I won't be able to attend every day, I do plan to go a few more times. Most likely I'll be there on the final day to take pictures of the winners as I did last year.
If you plan on attending, here is the full eight day 2012 NSSA National Championship schedule. You can't miss it, it's on the south side of the Huntington Beach Pier.
Since this is a surfing photography site, here's a few tips if you plan to photograph the event/surfers.
For morning shots, photograph from the beach south of the NSSA structure, shooting northward and use the pier as a backdrop.
For afternoon shots, you'll get decent shots from the beach or pier, but look at the surfers and waves, if most are on the outside (away from the pier) then shooting from the beach is best. If most are on the inside close to the pier, then walk on the pier and shoot south and down you'll also be able to get closer to them.
 Remember that because the distance of the surfers and fast action, only a DSLR with a zoom or long lens can capture images like the ones you see on this page. If you're new to photographing surfers and looking for a new DSLR, the Nikon D5100 is a good way to start.
Now back to the NSSA Championships and the photos from today. See below for more photos, click on images to see them larger and more detailed.